Thankfully, the days of carrying around a gigantic binder full of your set list charts is over. Like many gigging musicians these days, I use an older iPad running iReal Pro for reading basic chord charts. (I know, I know, purists might take issue with this idea. If you are one of them, can skip this post and continue shaking your fist in another direction.)
I find that full-size music stands are a bit "loud" on stage when all you're looking at is a 10″ x 7″ rectangle. Plus, as you all probably know by now, minimalism: it's my thing. We're still a ways off from reading music charts off of cloud-connected ocular implants, so I came up with this guy: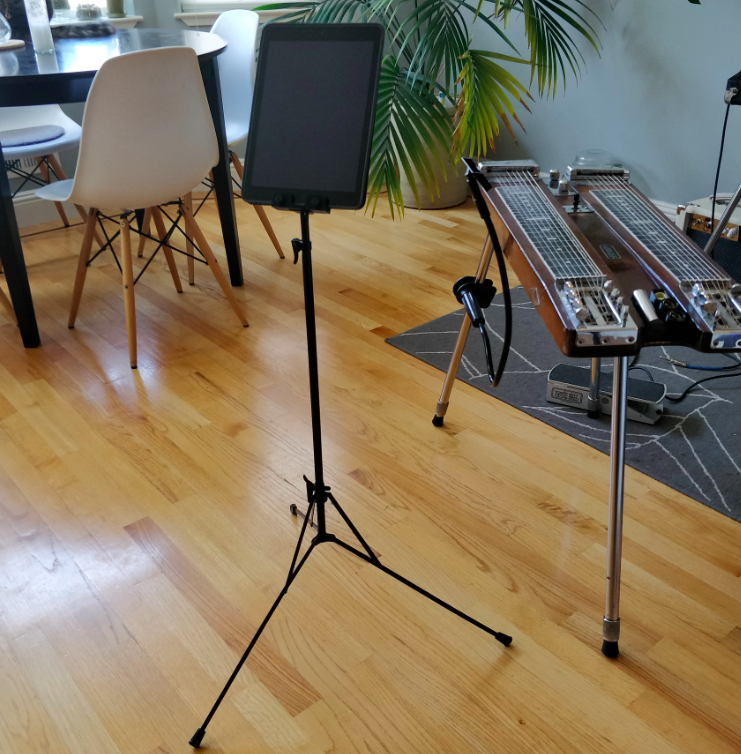 The stand base is the ubiquitous Hamilton two-section folding stand, a classic of jr. high school band rooms. Notice that (perhaps intentionally) "music" does not precede the word "stand" in the product listing. Their flimsy top sections weren't the best at holding up actual sheet music. Memories of overstuffed binders somersaulting off of them are now flooding back.