If you're here you probably just acquired an earlier vintage DeArmond Rhythm Chief (RC1000 or RC1100) archtop guitar pickup, got all excited to plug it in, then looked at the volume/tone control box thought, "huh? what the heck is this weird screwy connector?"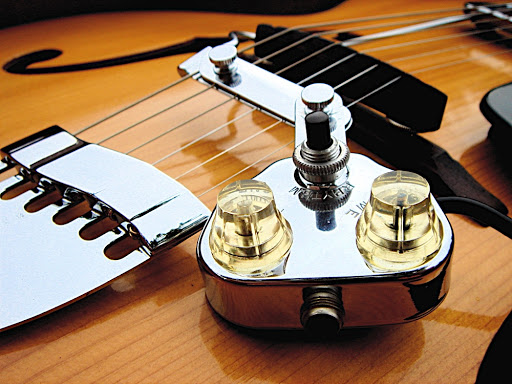 Well I'll tell you what that is: it's a very antiquated microphone jack that isn't really around anymore. And to save you the time, the part number is Switchcraft 5501FX, and you can get them at Mouser, Digikey, or Angela Instruments. You supply your own guitar cable, chop off one end, and attach this instead. Done.
Well, actually it's not that simple. It's a very unconventional connector and not really a "unscrew some stuff, then solder two contacts" sort of affair. But I'll get to how to install one of those in a bit.
Another option is to just buy the whole dang cable. Archtop.com has them here…. for $49 + shipping. And I see them on Reverb for more or less the same.
Now, I don't know about you but something doesn't sit right about spending over $50 on on a cable (sorry, readers who work for Monster). Sure, if you're a busy multi-thousandaire you will probably think nothing of snapping one up, but chances are you're a dumpster-diving jazz guitarist wondering if there's an alternative.
So is there a cheapskate, DIY, stuff-around-the-house solution? Well, as it turns out… yes there is.
Continue reading

"All about that DeArmond Rhythm Chief pickup screw-on connector"