"Hey, Bugera… Knock It Off!"
I've been curious about the Bugera AC60* for a while. After seeing one picture of it, it was obvious that it is a flagrant knock-off of the AER Compact 60*. But the most compelling thing about this little poseur is that comes in at around $250.
That's more than 5x less than the $1300 AER! Now I'm all for supporting quality boutique products, but I'm also a musician that earns a fraction of a real salary and I love a good deal.
Coincidentally, one soon popped up on my local Craigslist for $150. I sat on the decision for a while. Gear Acquisition Syndrome is real and my apartment is not getting any bigger. But curiosity got the better of me and I'm sure I made some flimsy justifications such as: "it can be my backup/travel/loaner/practice/whatever amp!", "maybe I can use it as a portable PA!", "I could use it as an extension cabinet!" (editor's note: these situations have occurred exactly 0 times in several years).
Needless to day, I took the plunge. Here it is tagging along next to it's fancy cousin:
 
Luckily for me, it was virtually unused. It still had some of the protective plastic covering on the logos. The fella selling it was definitely a casual player. He even asked me if I wanted to start a light rock/country band before even hearing me play.
After picking it up I took it straight to a gig (no doubt it's first) where I planned to use it for half the night. I ended up using it for two sets and switched back to the AER for the quick last set.
In short: I didn't notice a "night and day" difference that would justify the 5x premium. I simply set it up the way I would an AER and I didn't have a miserable time with tone or trying to dial it in. Now that may sound lukewarm, but in my experience, "not being miserable" equals high marks in the acoustic guitar amplification space. Both my bandmates were also using AER amps and they too were quite surprised by it.
The next day, I set it up as above with an A/B switch. I noodled around while toggling between the two amps and again, didn't hear any total dealbreakers. They are both sufficiently loud, nice-sounding amps.
But how about an audio taste test with some samples? Read on….
The Setup
Acoustic

: Manouche Latcho Drom + Audio Technica AT831b internally mounted

Electric

: 1947 Epiphone Blackstone + vintage DeArmond Rhythm Chief
Both were plugged into channel 1, "COLOR" switch enabled, with the flat EQ and volume at about 40% (see below).
The amps were mic'ed with a Shure SM57 about 2 inches away through an Apogee Duet.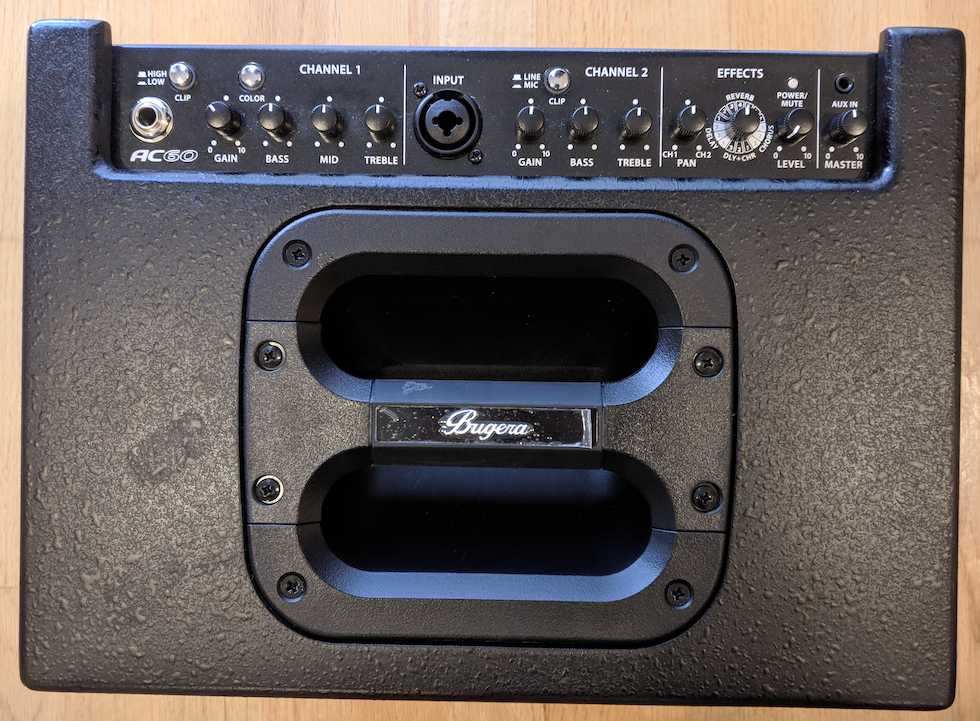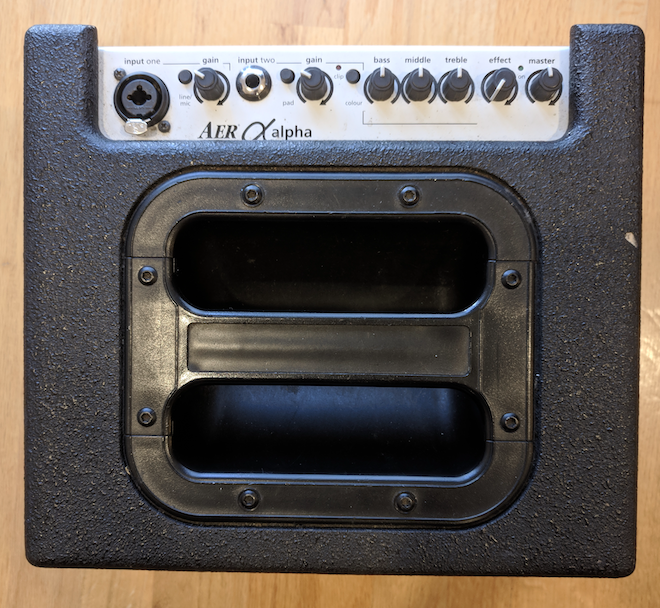 Gypsy Jazz Style Rhythm – "I Can't Give You Anything But Love"
BUGERA_i_cant_give_you_anything_but_love
AER_i_cant_give_you_anything_but_love
---
Gypsy Jazz Lead – "Chez Jacquet"
---
Combination of Chords and Lead – "Stompin' at the Savoy"
---
Single Coil Pickup Archtop – "Django's Castle"
---
Closing Thoughts
I encourage you to use your own ears, but please listen with some quality speakers with some bass response. Laptop/phone speakers will not be accurate.
Here are my impressions on the Bugera* vs. the AER:
With flat EQ, I'm finding that tone for magnetic pickup archtop is quite nice and similar on both… very pleasant, clean, and musical.
With microphones they are quite different. the AER sounds more clear, crisp and bright w/ flat EQ. The Bugera has more bass and mid-range up front. I need to turn the treble on the Bugera to about 75% to match the AER. It also has a hollow, distant sound.
I found that using an Audio Technica through the dedicated microphone channel was not very good. The extra EQ and color switch make a big difference. On the AER Alpha you can add the color to the mic channel which is nice (I believe this is not the case on the Compact 60, however).
Some nice additions: it has a built-in kick back stand (similar to the Roland ac60) which I like very much. The speaker mount on the underside is a standard wide-diameter stand type, not the weird screw-on type. There is an 3.5 mm AUX/line in on the top control panel. There are more on board effects (delay, chorus, reverb, delay+chorus) if you really want to irritate your bandmates.
Some hang ups:
The Bugera seems to take a few extra seconds to turn on, which seems unusual for solid-state. The AER is instantly on.
The controls are more plasticky and cheap-looking.
It doesn't come with a fitted carrying case and there isn't one available to buy. Too bad. I use the AER case shoulder strap all the time, takes a lot of pressure off your arms when you're walking a few blocks.
One of the gain pots is a little scratchy, which is easily fixed with some contact cleaner, but might be a general indication of the quality of parts.
The weight is 15.2 lbs, so slightly heavier than the Compact 60, and 2 lbs heavier than the Alpha.
Hope this was useful!
* Affiliate links