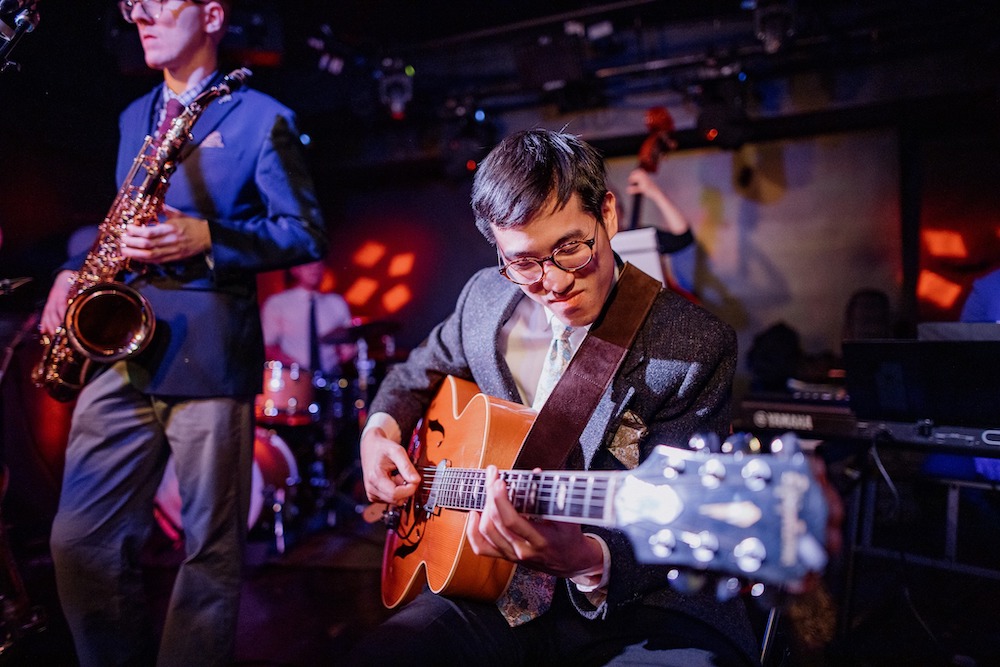 Vic Wong is a jazz guitarist, double-bassist, tenor banjoist, and ukulele(ist?) in based in San Francisco. He specializes in early jazz styles of the '30s and '40s. Sometimes, in the comfort of his home, he makes horrible noises on lap steel when nobody is around to hear.
Vic proudly plays regularly in a wide variety of local bands, including jazz/blues/swing combo the Cottontails, earth's only theremin-lounge band: Project Pimento, and swing-era Hawaiian group the Alcatraz Islanders. He wont bother to list every band because that would be unproductive use of our time.
Also, if you twist his arm not very hard, you can find him playing solo jazz guitar, reggae, ska, soul, R&B, funk, rock, folky singer-songwriter, bossa nova, choro, top-40 or whatever the paycheck is sufficient for. He's likes everything and is versatile, is what I'm saying.
One time, he opened for John Legend. Okay, so maybe "opening" isn't the word. But he played music prior to John Legend in the same event location. Quincy Jones was there too, but Vic was unable to get his attention despite throwing all the Brazilian music he knew at the set list. Despite all this, he thinks it was a cool experience.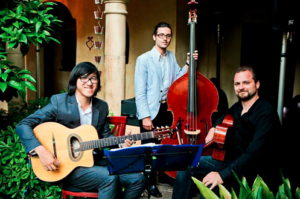 Vic's first musical passion is the gypsy jazz music of the music of Django Reinhardt and Stephane Grappelli. He leads the band Panique. Check out what the ubiquitous jazz wordsmith Michael Steinman had to say about the group:
"Panique is a rare group, subtle and inventive… In their mix of standards and less-known material, they embody the great virtues of memorable swing improvisation: a speaking eloquence in their solos; delightful ensemble interplay; extraordinary subtlety in their dynamics, tempos, and shadings; and a real understanding of how deeply listeners need melodies.  Although the members of the group look youthful, they are mature improvisers with well-developed imaginations, ears, hearts, and wit." —Michael Steinman, Jazz Lives
He's also a handy fella that likes to design and make all kinds of bits 'n' bobs to make his job as a musician marginally easier. You can read all about it on his blog.
Oh who am I kidding. "He" is "me". Vic is writing this. Vic also hates writing bios.